The idea of going off to college: scary. Especially when you have lived in the same house, the same city, gone to the same school with the same people for all of your life. Leaving your family, not really having a way to get home, are all really scary things. But the most scary of them all – signing a housing contract with someone you barely know. I heard horror stories, people throwing ragers, people throwing things, and just full on fist fights between college roommates – luckily growing up in an IU household theses were all from the school down south. As my friend Bob would say:
"Hoosier by birth. Boilermaker by the Grace of God."
and man is he right. I came into Purdue having really only had dinner with my roommate and texted a couple times. We were both from Indiana and we both played sports and kept our rooms decently clean – what could go wrong (nothing really did – sorry this story is not THAT exciting – or maybe it is, idk you decide). I worked at an over night camp this summer, which meant the hours I could be on my phone were from 11:00pm – 2:00am when I would usually go to bed. This meant that most of the real world was asleep and that I played a lot of phone tag. One night when I was sitting out on the porch of my cabin, I saw that the housing for Purdue had been released. I quickly realized I was in Purdue Village – which my friend Tyler told me was on the edge of campus – and that I would have not one but 3 roommates. Scary.
Having almost gone to a small school, the calculated 30 minute walk from my place to Armstrong Hall did not excite me as an incoming First Year Engineering Student – especially because I know that Indiana is quite the place of changing weather and snow. But two people I had never met, I was terrified – what were they like?, what would they think of me?, were they slobs?, would we get along?.
It turns out, the survey Purdue has you take on your housing contract about your preferences is pretty dang good. My roommates are awesome, and to be honest, I am a little sad that the school year is barreling towards an end.
Growing up, I was an only child (in short). Meaning that the closest thing I had to a sibling in the house besides my half sister who headed off to college when I was in elementary school was my cat, and eventually my dog. I don't know about you, but cats and dogs are pretty easy to live with, once they are potty trained you are good to go. Humans can be a lot more difficult sometimes.
Moving it was chaos, we all had too much stuff and not enough space, but with time, a lot of command hooks, and some communication, teamwork, and organization we found a set up that worked. Within the first couple of weeks of school, I was really starting to appreciate my walk. It gave great separation between Home and School and was located in a quiet part of campus away from frats and co-ops throwing loud parties. I ended up bringing my bike, and that combined with the buses gave me plenty of option on how to get to class, no matter the weather.
My roommates and I grew closer – having meals together, baking together, going to games together, helping one another with homework, and of course doing the Common Bond Dance from Boiler Gold Rush at 11:00 pm every night.
As I look back on first semester, and the first part of second semester. I see nothing but smiles. Smiling during BGR as we did a fountain run.
Hanging out with my roommates, meeting new friends, and participating with awesome BGR activities.
Even more smiles came with the first football game (even though we lost), getting my Engineering Group, and even joining the Purdue Sailing Club and winning the Old Oaken Rudder against IU!
College was soon into full swing, and I was having SO much fun. I was learning how to live with new people and how to organize ourselves (we even made a chore chart!). I was also enjoying my classes, learning a new routine, joining clubs, and catching up with friends from high school. I began pledging the Purdue Reamer Club, which gave me a group of 11 other students who loved Purdue and the Boilermaker Specials just as much as I did – who soon became my family, along with a club of other amazing people. We would arrive hours early to football games and have late night adventures to explore the campus. We even got to hold the flags on the field before every football game which was awesome! Especially during the OSU game when President Daniels came up and talked to us! We also volunteered for the Half Marathon on Campus which was a blast!
The Football game vs Ohio State was especially special for me as I grew up down the street from Tyler Trent and he was one of my good friends. Getting the win that night was something that I know I will remember forever. Seeing Tyler's smile after he predicted the total upset over No. 2 Ohio State was priceless.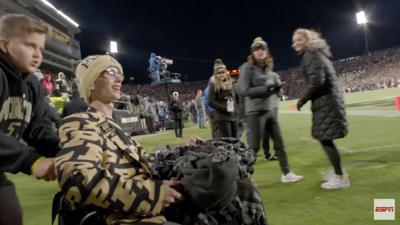 I went to many more football games, even the rainy and the snowy ones. Made friends with people in our All – American Marching Band – learned why we are called the All – American Marching Band. I also got to participate in my first Purdue University Dance Marathon as a member of the Logistics Committee which was a complete blast and I met so many amazing people – even though my legs hurt really bad after being on my feel for 24+ hours. I even got to meet Pat McAfee and Amazing Riley kids and their families. Towards the very end first semester I began a full fledged Reamer, and the most exciting part – I got a magnetic name tag!!!
I learned a lot of things first semester:
Wiley has the best cookies
The Boilermaker Special is the best mode of transportation
My roommates are AWESOME
Making my bed helps me have a better day
Clean Room = Better Sleep
Procrastination needs to stay in high school
Communication is key when it comes to your roommates
Chore Charts are a good thing
Fix – it is a lifesaver
Don't walk in the bike lane
The Safe Walk people are really nice/funny
Purdue is the freaking best
Free Laundry is the best Laundry
Having an extra room is honestly the key
Come to recitation with questions
Dont skip class
Get up – even if it means setting 7 alarms
Find your niche – you can make a big school feel small
Second Semester Started off a little differently, my childhood friend and neighbor Tyler Trent passed away on the first of the year. However, I truly learned the heart of Purdue and the heart of the people around me during this time. There is none that rivals Purdue or the people I have become friends with here.
I attended my first Purdue Mens Basketball Game as a student with my friend Bob as we watched our Boilers take down Maryland – a special game for Tyler and his friend Scott Van Pelt.
I received word that I had been accepted into Alpha Lambda Delta Phi Eta Sigma – an honor society – due to my performance on campus first semester!
I have alot enjoyed so many other Purdue Basketball games with friends! Mackey can get very loud!
I got placed on the Riley Relations Committee for PUDM 2019 and went to watch one of our Riley kids participate in the Polar Plunge for Special Olympics which was so much fun and I am looking forward to getting to know all the amazing people on our committee this year!
I also have 3 new amazing roommates for next year! 2 of which who are on my committee for PUDM which is super awesome!
Here's what I've learned so far second semester:
Purdue is the best – has the best heart
Purdue > IU
Purdue Basketball is up and coming – the train is rolling people
Mat Haarms Starbucks order
Its okay to go home – sometimes you need a break
Studying with friends is fun!
Turkey Pesto from flat bread is SO good – and so are the pickles
Making time for yourself is important
Stay organized!
Overall, Purdue has been such a blessing to me. Most of all though, Living in Purdue Village and ending up with the roommates that I have was probably top of the list. They are amazing people who go out of their way for me. Also apartment style living in perfect for me and gives me room to breathe.
I thank God for Purdue University.
I thank God I am a Boilermaker.
Boiler Up, Hammer Down, Hail Purdue!
Forever #TylerStrong
— Darby Roberts